---
Nike FC presents Footballverse
Nike Global
2022
Executive Creative Directors: Ryan O'Rourke and Alberto Ponte
Senior Creatives: Tim Arts and Stefan Van Den Boogaard
Executive Producer: Byron Oshiro
Senior Producer: Shelley Eisner
Producer: Katie Schaller
Managing Director: Kathryn Addo
Brand Director: Holly Baker-Cliff
Management Supervisor: Paanii Annan
Brand Executive: Frank Santos
Art Producer: Grace Petrenka
Design Director:
Shantanu Sharma
Design Producer: Sarah Starr
Studio Specialist: Matt Blum
Group Media Directors: Danny Sheniak and Brian Goldstein
Retouching: Frazer Goodbody and Greg Radich
Illustrations:
Matt Taylor
and
Oliver Barrett
Full credits
here
To exemplify Nike's long-standing belief that the future of sport has infinite potential — and encourage a new generation of footballers to prove it, W+K created a four-and-a-half-minute film where an international team of scientists at a secret lab in Switzerland bring legendary players of the past and present for the ultimate battle of all football generations.
The film was part of a 360-integrated global campaign featuring (D)OOHs, AR and retail experiences, and many more — creating an interconnected experiential community-led space that merges the virtual and physical, surrounding the 2022 World Cup.
A key visual system was created featuring an illustrated movie poster of the athletes starring in the film. Each individual athlete illustration was repurposed for location-specific and social activations.
Working closely with Nike's Global Brand Design team, we designed logos and assets to be included in their global guidelines for activations surrounding the campaign.
Enter the Footballverse
here
RECOGNITION︎︎︎
Cannes Lions
Gold Lion- Entertainment
Silver Lion- Entertainment for Sport, Brand Storytelling
Clios
Branded Entertainment & Content - Film - Scripted - Gold
Film Craft - Visual Effects - Gold
ADC Awards
Craft in Motion / Film / Visual Effects
One Show
Branded Entertainment: Long Form Video - Silver Pencil
Fit and Video: Television and VOD Over 60s Single - Silver Pencil
Film and Video: Innovation in Film - Merit
Out of Home- Craft in Illustration - Shortlist
D&AD
Wood Pencil, Finalist
Webbys

Finalists
New York Festivals

Bronze
British Arrows Awards
Silver, 3 x Finalist
---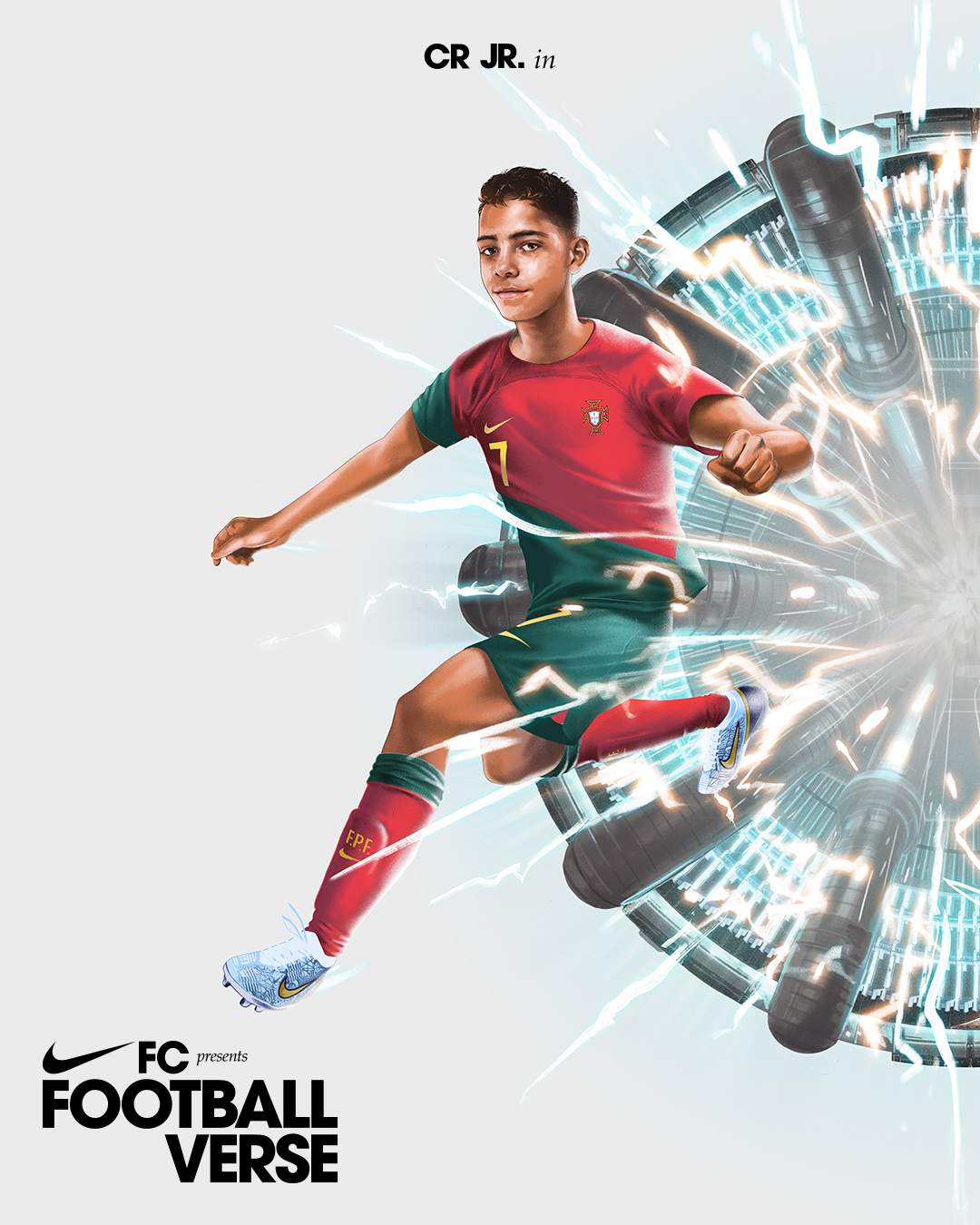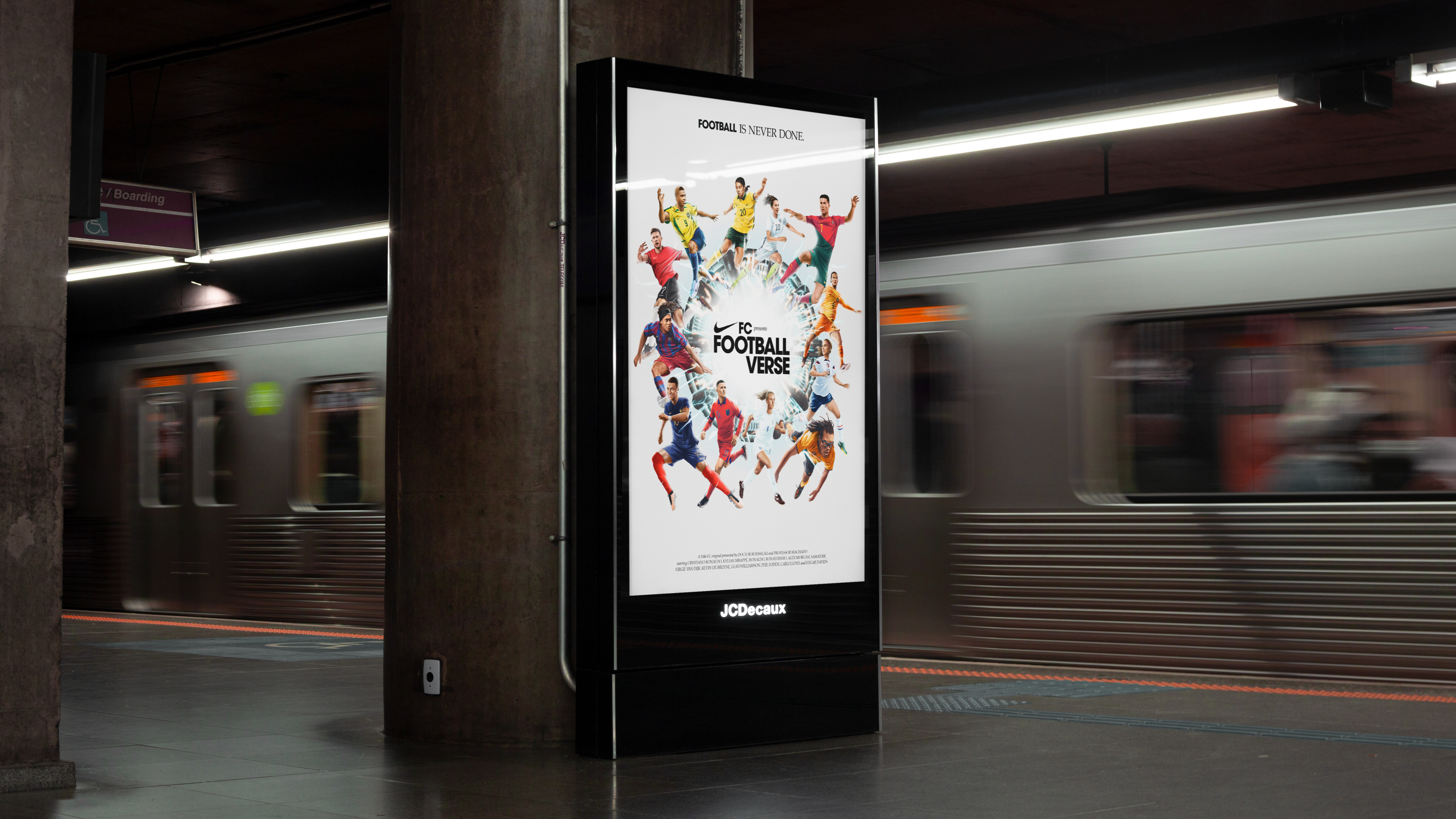 By championing incredible Nike players, past and present, Footballverse also shows that every generation of athletes makes a unique footprint on the game, expands the sport, and inspires future generations to leave their mark.

Our platform for the campaign was 'You're Up,' summoning the next generation of players to step up to the pitch and become legends of their own. We created an identity for the platform, creating a custom 'O' icon inspired by the wormhole in the film that extended into a graphic element across activations that could also house QR codes across retail and OOH.